HARLAN FFA HONORED AT SHELBY COUNTY FAIR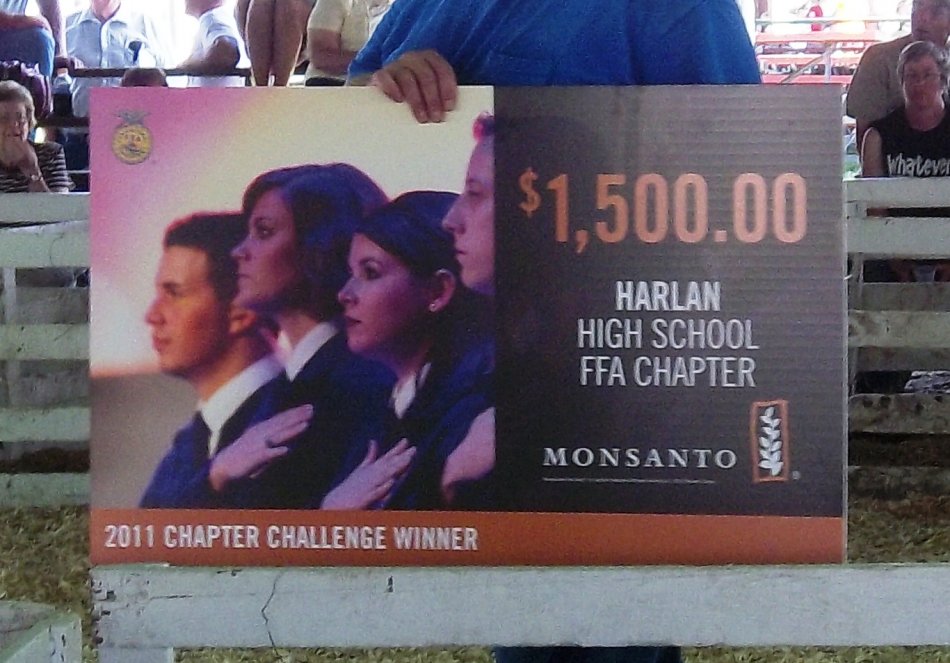 (HARLAN) Harlan FFA was honored at the Shelby County Fair today (Friday) as the top chapter in the state for the FFA Chapter Challenge pilot program, sponsored by Monsanto.
Monsanto representatives presented Harlan FFA with a $1500 check to be used at the National FFA supply service for any FFA supplies they may need. Harlan FFA Advisor Dan Leinen said this was a huge boost for the chapter.
"It's a very nice honor; we're very appreciative to Monsanto, $1,500 for FFA merchandise will go a very long ways," said Leinen. "We'll probably be using it for awards for our students at banquets, we may put in some money for a scholarship type deal, but it's a huge boost to our chapter. We had a lot of area farmers and we even had some out of state farmers that contacted us and voted for us."
Justine McCall, the new Ag Instructor in Harlan, said this is a good sign for the future.
"It just shows that Harlan has a good chapter already, I'm just honored that I can be a part of it," said McCall. "Coming into a good chapter is a lot of pressure but that's awesome that they're already successful."
FFA members in Indiana, Illinois, Iowa, Missouri, Minnesota, Georgia, and Alabama took this opportunity to make meaningful connections with area farmers, and farmers then voted for their favorite chapter. Twenty-five chapters across Iowa were in the running for the FFA Chapter Challenge grand prize, which was made possible through National FFA and Monsanto. The chapter that received the most votes won a trip to this year's National FFA Convention in Indianapolis. The top 10 chapters in each state were awarded a $1,500 certificate of credit. The second prize chapters received FFA merchandise gift certificates.
Mandy Billings