THREE VEHICLE ACCIDENT REPORTED IN MONTGOMERY COUNTY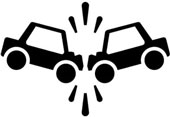 (Red Oak) The Iowa Department of Transportation reports a three vehicle accident on Highway 34 Thursday evening.
According to the report, a Ford Contour driven by Katherine Renee Carpenter of Omaha was stopped at a stop sign at the intersection of 200th Street and Highway 34. The vehicle proceeded northeast through the intersection striking a westbound Chevy Malibu driven by David Anthony Daquila of Lake Ozark, Missouri. As a result of the collision, Daquila's vehicle then struck a Ford Ranger driven by David Wayne McFarland of Red Oak. McFarland was stopped at the stop sign southbound on 200th Street at the time his vehicle was struck by Daquila's vehicle. Carpenter, the driver of the Ford Contour, was cited for failure to yield at a stop sign. She and her passenger Denise Roschelle Smith each suffered injuries and were taken to the Montgomery County Hospital by Red Oak Rescue.
Press Release