EGG PRODUCERS AND HUMANE SOCIETY REACH AGREEMENT ON LAYING HEN CAGES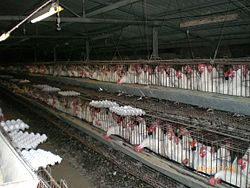 (Washington)
The United Egg Producers and the Humane Society of the United States announced an historic agreement Thursday to phase out the use of battery cages for egg-laying hens and establish other treatment standards. Doug Steele, of Steele Land and Livestock an Anita Farmer and Angus Seedstock Producer discussed the issue during his show "The Herdsman" last week.
"The agreement reached by the two entities is to pursue legislation to go to an enriched colony housing system from the conventional cages that are currently used in the industry today," stated Steele. "The new system contains a nest, some perches, and a scratch area."
Steele says it will cut building populations in half. "The new cages will be 124-square inches for white hens and 144-square inches for brown hens. So we are talking buildings that used to house 125,000 birds, will only house 65,000-to-75,000 birds now."
This agreement will become a national standard that would phase-out battery cages and gradually require cages that would give many hens more space and allow hens to express natural behaviors. It would also require companies to indicate on carton labels how the hens that produced their eggs were treated.
The Humane Society says the bill would improve the lives of hundreds of millions of hens.
Tom Robinson,Noon, July 11, 2011