THREE INJURED IN SHELBY COUNTY ACCIDENT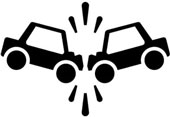 (Harlan) Three people were injured in a two-vehicle accident in Shelby County Thursday afternoon.
The Shelby County Sheriff's Office says two drivers and a passenger were injured in the accident that occurred just before 3:00 p.m. on Highway 59, near the 82-mile marker. They are identified as Caryn Gekas, of Lincoln, Nebraska, Jennifer Rodgers, of Lincoln, Nebraska, and a female passenger.
Authorities say, Gekas was stopped in the roadway awaiting the passing of a semi-tractor trailer hauling windmill parts. A second vehicle behind Gekas and driven by Rodgers couldn't get stopped in time and rear ended the Gekas vehicle.
All three were taken to Myrtue Medical Center in Harlan by Ambulance.