GRISWOLD WOMAN WAIVES SPEEDY TRIAL IN FATALITY ACCIDENT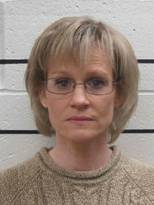 (ATLANTIC) The Griswold woman facing charges in a fatality accident last summer has waived her right to a speedy trial. According to court records, the trial for 45-year-old Christine A. Riedemann has been continued to August 23rd.
Riedemann is charged with vehicular homicide and possession of a control substance, marijuana, in connection with a single-vehicle accident that occurred on June 4, 2010 west of Atlantic.
Riedemann was allegedly operating a 2010 Jeep Wrangler, while intoxicated, westbound on Highland Road. Riedemann lost control of the Jeep, entered the ditch, and struck a utility pole between Front and Pearl Streets. This collision resulted in the death of her passenger Katrina L. Christensen. Court records show two blood draws were taken from Riedemann and were above the legal limit at .221% and .162%. Marijuana was also found to be in the possession of Riedemann and it was confirmed from the DCI Laboratory.
Mandy Billings