NTSB RELEASES INVESTIGATION DETAILS ON TRAIN CRASH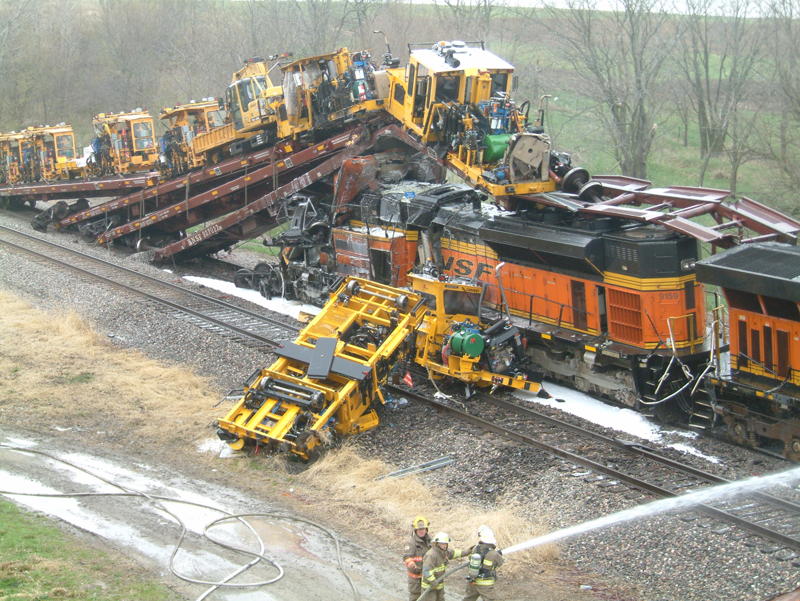 (RED OAK) The National Transportation Safety Board has released preliminary information on their ongoing investigation into a collision between two BNSF Railway trains near Red Oak. The collision on April 17th resulted in the death of two railway workers from Creston.
According to a press release on the NTSB website, the event recorder and forward facing video camera on the leading locomotive of the coal train were damaged in the collision and subsequent fire. Both recorders were retrieved and are being analyzed at the NTSB's lab in Washington, DC. The video camera was too badly damaged to retrieve data. A preliminary review of the locomotive event recorder data indicates that just before the collision, train speed increased and the throttle was decreased as the train reached the top of a hill west of the accident site. The data also indicates that the speed at impact was 23 mph and that the emergency brakes were not applied before impact.
During the on-scene investigation, NTSB investigators tested the signal system and the undamaged coal cars. The equipment satisfactorily met test criteria.
The crew of the struck train reported that visibility at the time of the collision was good.
As the investigation continues, investigators will review personnel, maintenance and various other records. In addition, crew cell phone records have been subpoenaed and will be reviewed by investigators.
The NTSB has formed a work group which will examine the crash performance of the leading locomotive where crew members were fatally injured. Parties to this investigation are the Federal Railroad Administration, the BNSF railroad, Electro Motive Diesel (the manufacturer of the lead locomotive), the Brotherhood of Locomotive Engineers and Trainmen and the United Transportation Union.
NTSB