BOETTGER RUNNING AGAIN DESPITE DISTRICT CHANGES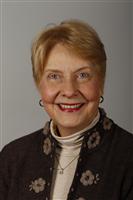 (Harlan) The Iowa reapportionment law was made official Tuesday and is now the law of the land. The new redistricting plan pits several incumbents against each other. Iowa Republican State Senator Nancy Boettger is no exception. Boettger, who has been in the state legislature since 1994, is now in the same district as incumbent Senator James Seymour, of Woodbine.
"I have not had a conversation with Senator Seymour so I can't speak for him," stated Boettger. "But I do plan to run unless he retires then I wouldn't have to run again in 2012."
Many of the lawmakers in the same boat are moving to another district; however, Boettger is not one of them. "I am not moving, we have our century farm here and the district shifts a lot to the north."
Boettger is praising the Iowa reapportionment process that is administered by the legislative service agency so there is no gerrymandering.