HARLAN SENATOR NANCY BOETTGER IN SAME DISTRICT AS WOODBINE SENATOR JAMES SEYMOUR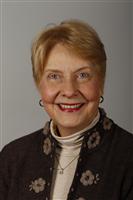 (Des Moines) Governor Terry Branstad says he will sign the plan to change Iowa's congressional and legislative election boundaries that were passed by the General Assembly last week. The governor says the non-partisan plan is probably the best plan possible. The change means some Iowa lawmakers will have to travel farther to meet constituents, while the others will have to gather with inter-party peers to see who will run in 2012.
The new map means 41-legislators now live in districts with other incumbent lawmakers. Republican State Senator Nancy Boettger, of Harlan is one of them. Boettger, who was elected in 1994, finds herself in the same district as fellow GOP Senator James Seymour of Woodbine.
Boettger told the Des Moines Register that she and Seymour would have to discuss the matter. Boettger says if anyone decides not to run they would have to make decision by next March