IOWA NATIONAL GUARD SOLDIER KILLED IN AFGHANISTAN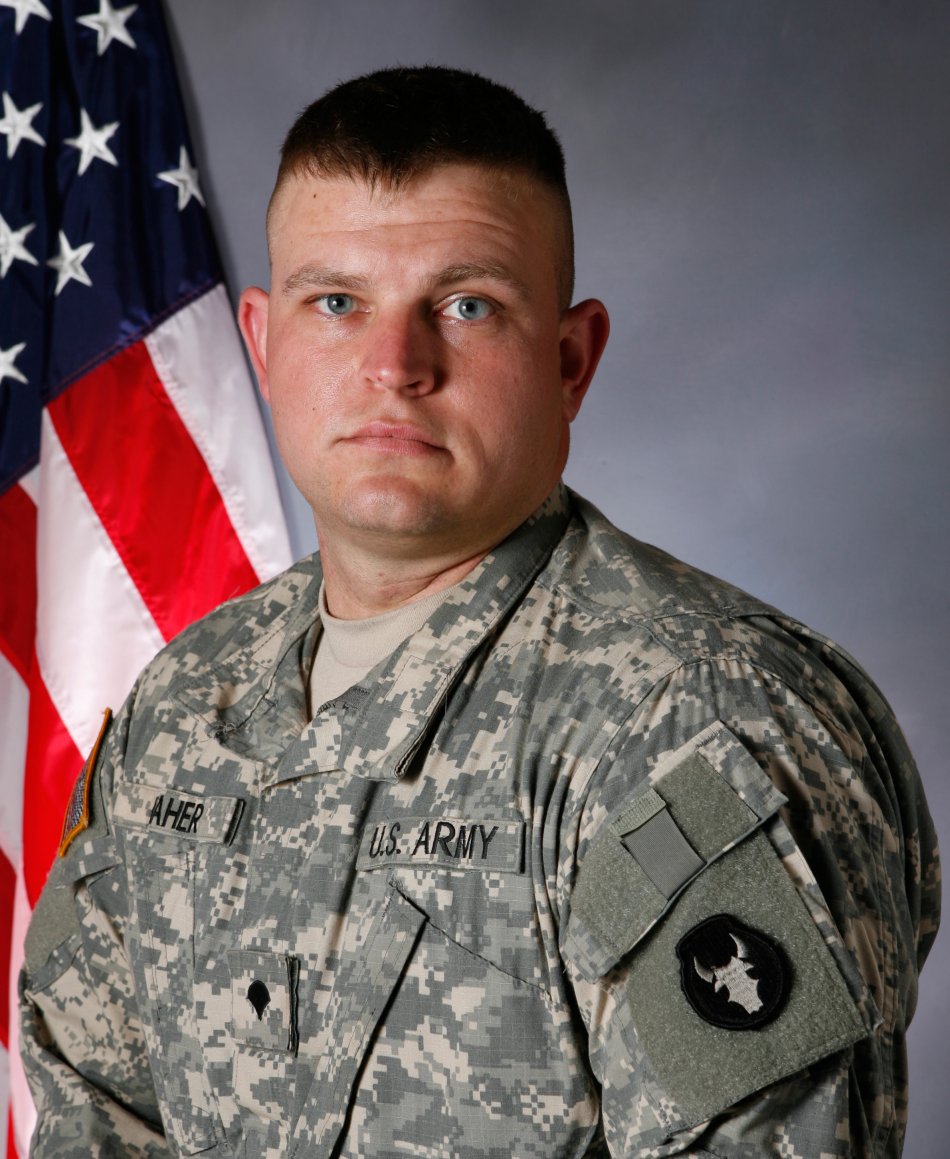 (Johnston) The Iowa National Guard regrets to announce the death of Spc. Brent M. Maher, 31, of Honey Creek, Iowa. Maher was killed during a mounted patrol, Monday, April 11, when the "Cougar" Mine-Resistant Ambush Protected (MRAP) vehicle in which he was the gunner, was struck by an Improvised Explosive Device in Paktya Province, Afghanistan at approximately 1 p.m., local Afghanistan time. Wounded in the attack were Sgt. 1st Class Nicholas Jedlicka, 31, of Council Bluffs, Iowa, Spc. Justin Christiansen, 24, of Nebraska City, Neb., and Spc. Dustin Morrison, 20, of New Market, Iowa. All four Soldiers were assigned to the Iowa Army National Guard's Company B, 1st Battalion, 168th Infantry, 2nd Brigade Combat Team, 34th Infantry Division, Shenandoah, Iowa.
Maher was born Dec. 3, 1979 in Hamburg, Iowa and graduated from Farragut (Iowa) High School in 1998. He also attended Metropolitan Community College in Omaha, Neb. Prior to his mobilization, he was employed by the Woodhouse Auto Family in Omaha, Neb.
An 11-year military veteran, Maher enlisted in the U.S. Navy in June 1998, serving until October 2005. He then joined the Iowa National Guard in May 2007 and was assigned to Company D, 1st Battalion, 168th Infantry, in Denison. He transferred to Company B, 1-168th Infantry, Shenandoah, in January 2008, where he was assigned as an Infantryman. He will be posthumously promoted to sergeant.
Maher was part of the approximately 2,800 members of the 2nd Brigade Combat Team, 34th Infantry Division deployed to Afghanistan. Company B is comprised of approximately Iowa Army National Guard Soldiers from Company B in Shenandoah, Detachment 1 of Company B at Camp Dodge, and Detachment 2 of Company B, from Corning.
These Iowa Soldiers reported to their mobilization station at Camp Shelby, Miss. in July 2010 for additional training and preparation before departing for the Afghanistan theater of operations. The unit arrived in Afghanistan in November 2010, where the Soldiers
provide full-spectrum operations in a combat theater, including lethal and non-lethal capabilities, support to Afghan National Army and Police units, and assistance to humanitarian relief initiatives.
Maher is survived by his wife, Brenna M. Maher, of Honey Creek, Iowa; daughters Kaitelyn Elizabeth and Hannah Rose, and a son, Matthew Douglas, 8, all of Niles, Mich.; his mother, Cheryl L. Tyner and step-father Mick Tyner, both of Essex, Iowa; a brother, Greg Maher, of Biloxi, Miss.; and grandparents Roy and Wilma McGraw, of Essex, Iowa. He was preceded in death by his father, Matthew Maher.
The family of Spc. Brent M. Maher issued the following statement:
"It is with great sadness that we learned of the death of our beloved husband and father, Brent Matthew Maher, during combat in Afghanistan. Brent died doing what he loved, serving his country and protecting the freedom that we enjoy and providing the people of Afghanistan with the opportunity for freedom.
We are proud of Brent's accomplishments and those of his fellow Iowa National Guard Soldiers and all of the military serving our country. We are forever grateful to the United States military for providing Brent with the opportunities he has experienced for the past 11 years. Brent was making a difference in the lives of the Afghan people, and was proud of it. As shocked as we are by his death, we are deeply appreciative of the outpouring of support shown by his fellow Soldiers, his family, friends and the community during this difficult time.
We are sure that you can understand and will honor our request for family privacy at this time, as we are focused on working with military officials to return Brent's body home for military services and burial. We thank you for your thoughts, prayers, and kindness at this extremely difficult time. We are deeply saddened by our loss, but extremely proud of the honorable way he served America as a leader in the U.S. Army. We will remember him, his sense of humor, his faith in God, and his love for his family, friends and his country, with great pride."
Funeral arrangements are pending in Council Bluffs and details will be provided as they become available. The Maher family asks that their privacy be respected at this time. Media representatives may contact the Iowa National Guard Public Affairs Office for additional information.
Press Release