NEW REDISTRICTING MAP BRINGS A NEW LOOK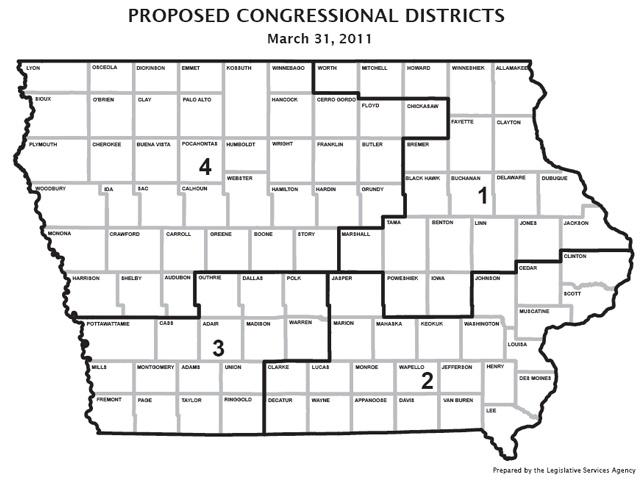 (Des Moines) Politicians are weighing in on the new redistricting map released Thursday morning. The proposed Iowa Congressional map eliminates one district and may require U.S. Representative Steve King to run against Incumbent Republican Representative Tom Latham. If the map is approved, Council Bluffs and Des Moines will be in the same district.

Iowa House Representative Clel Baudler, of Greenfield, says in Cass County he lost Massena and Victoria townships, and kept Benton, Grant, Franklin and Lincoln, and lost all of Audubon County. He still retained Adair and Guthrie County and picked up 5-townships in Dallas County including the cities of Linden and Dawson and the entire city of Perry.
"It'll affect me kind of by the distance I'll have to travel to population basis, i.e. Perry, other than that it looks like a reasonable district for me," said Baudler.

Baudler says keep in mind this is only the first map.
"Second and third maps might be coming, we might take this one, it looks like what I'm hearing the Senate democrats aren't very happy with this map, I know I've heard some people are going to move, a lot of people were thrown together, there is one district up here that threw three republican incumbents together," said Baudler.

Baudler admits when you have sixty-incumbents, you are going to have some of that.

Tom Robinson