IOWA SCHOOLS PENCIL BUDGETS WITHOUT STATE FINANCING INFORMATION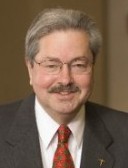 (Atlantic) Iowa Governor Terry Branstad told school officials facing an April 15 budget deadline to assume that his proposal for no increase in basic state assistance eventually will become law. This is a serious matter for school officials, who must get their budgets certified by April 15. Atlantic Schools Superintendent Dr. Michael Amstein says they have already certified their budget.
"We built our budget on a 2% percent allowable growth," stated Amstein. "The reason we did that is because if it turned out to be zero we wouldn't have to go back in and demand any of the tax levy's."
He said it would have been great to get that information in a timely fashion to be as precise as they could be.
Branstad has proposed no increase in basic state financing for schools and wants to offer preschool scholarships only for families that cannot afford to pay. Those proposals have stalled in the legislature.
Tom Robinson