CASS COUNTY FARMER PRESENTS $2,500 FROM MONSANTO PROGRAM TO MASSENA FIRE DEPARTMENT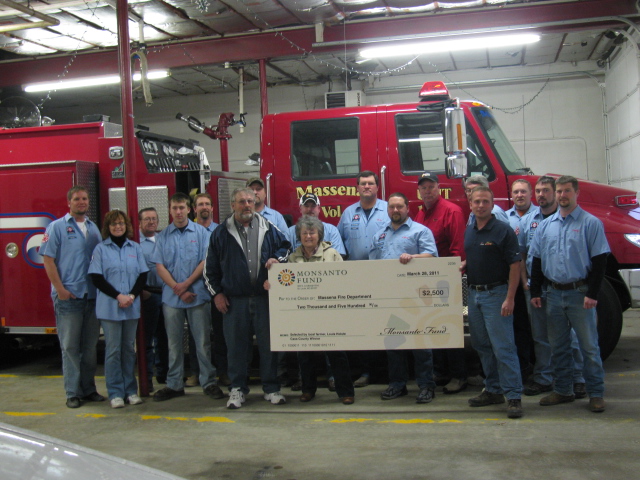 (Massena) Rose and Louis Holste of Massena along with Monsanto Representative Bill Backhaus presented a check to the Massena Fire Department Monday evening. The Holste's are winners in the America's Farmers Grow Communities' program. Bill Backhaus of Monsanto presented the check at the ceremony Monday night.
"Under these program eligible farmers in more than 1200 counties across 38-states including Iowa could enter to win a $2,500 donation for a local nonprofit community group of their choice," said Backhaus. "The purpose of this program is to recognize the vital role American farmer's play, and to help them grow their communities by supporting a local organization that is important to them."
"I'm just really excited that the Fire Department got this award," stated Holste. "I think they are a bunch of civic minded people and that do a lot in the community. The firemen work really hard to raise funds and this will be a nice way for them to raise some money that they won't have to work real hard for."
Massena Fire Chief Chris Blaine thanked the Holste's and stated that this money will go towards the Departments tanker project.
The Monsanto Fund expects to invest more than $3 million in local communities.
Tom Robinson