LASER TOUR COMES TO ATLANTIC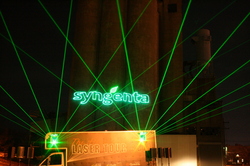 (ATLANTIC) The Syngenta Heartland Laser Tour will be in Atlantic this weekend.
The free family event will be held at Oathoudt Farm Supply Co. at 205 Birch Street from 8 p.m. through 10 p.m. Saturday. The show consists of a continuous repeating 30 minute program filled with fast paced moving laser lights synced to well known country, pop, and rock songs. The program ends with an inspiring patriotic tribute.
This is the 2nd year of the Heartland Laser Tour which is sponsored by Syngenta Plant Performance products.
Mandy Billings