STORMY SKY'S EXPECTED IN THE AREA LATER TODAY AND TOMORROW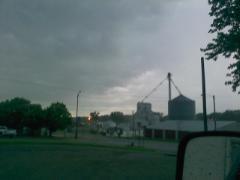 (Des Moines) Storms are expected to roll into the area late this afternoon and continue at intervals through tonight with large hail the primary threat.
However, the best chance for severe weather is tomorrow afternoon and evening. Rod Donavon, with the National Weather Service in Des Moines says some storms could be severe especially Tuesday afternoon and evening, with all modes of severe weather possible.
"The main activity is still expected during the day tomorrow especially late afternoon," said Donavon. "The main threat is over Southwest Iowa where there could be numerous thunderstorms and there is some potential for a few tornadoes as well as large hail and damaging winds."
A severe thunderstorm watch is issued when weather conditions are favorable for the development of severe thunderstorms. If thunderstorms are forecast and there is a significant risk that they may produce tornadoes, then a tornado watch is issued.