SCHOLARSHIPS OFFERED TO BUILDING TRADES STUDENTS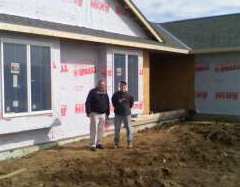 (ATLANTIC) Don Sonntag is offering up to 15-thousand dollars in scholarships for students continuing their education and career in construction trades.
Sonntag said the scholarships are being offered as an incentive to encourage students to continue in the building trades program and hopefully gain a career in carpentry, electrical, mechanical, plumbing, mechanics, concrete construction, welding, or any other related profession in the Cass County area.
"We just want to try to keep bringing this Trades program along a little further and give more kids around here an opportunity to do something that they may not be able to do on their own," said Sonntag.
There are twelve students in the Building Trades program in Atlantic this year, including students from Walnut and CAM. Building Trades Instructor Rob Klepfer says the program is a great start for these students.
"It's a good program, it gets them while they're still in High School their Senior year, it gets them on a job site to see what it is like to work in the Trades, and that's really where a lot of them that maybe never had an interest in that, but that's where they can see they can do the work," said Klepfer. "So the sense of accomplishment really boosts their moral greatly, so they get really excited about it."
The scholarships will be issued through the Atlantic School Foundation. Students interested in the scholarships can apply through their school guidance counselors or by contacting Rob Klepfer. The amount awarded will depend on the number of applicants.
(Photo: Don Sonntag and Rob Klepfer at the Building Trades site)
Mandy Billings