MARCH IS NATIONAL MUSIC IN OUR SCHOOLS MONTH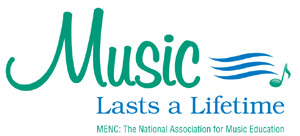 (ATLANTIC) March has been designated as Music in our Schools Month by MENC: The National Association for Music Education.
Atlantic High School Vocal Music Director Luke Johnson stresses the importance of music education in schools because he says there is an integrity and work ethic that is driven in motivation for young students that they don't always get in other activities. He says the opportunity to perform also allows the kids to open up as people.
"The skills that people need in any line of work down the road involve good interview skills and by putting yourself out there as a performer, you're building up the confidence to be able to do that," said Johnson. "I think that is something that is invaluable that the kids don't even realize that they're getting."
Johnson said most people don't even recognize when music is happening because it is so saturated in their everyday life.
"Everywhere you turn there is music incorporated into advertising, TV shows, you name it, and they have an appreciation for it but they don't even realize it because there is so much that is sold by music and if we didn't have that obviously a lot of people would be without a job and it wouldn't have the same impact because music is so used and appreciated by everybody in one form or another," said Johnson.
Budget shortfalls across the nation have caused many school districts to cut their music and arts programs. Luke Johnson says locally a lot of the smaller schools have to worry about keeping any of their programs going, so it doesn't necessarily have to do with the arts so much as just the school as a whole.
"I think our community is one that is so appreciative of all the activities and experiences that are offered that they are going to do their best to keep all of those things intact," said Johnson.
The theme for Music in our Schools Month 2011 is "Music Lasts a Lifetime".
Mandy Billings