RIVERSIDE SCHOOL BUS INVOLVED IN ACCIDENT NEAR SHENANDOAH FRIDAY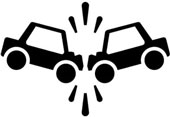 (Imogene) More details have been released on the accident involving a Riverside School Bus. According to a press release from the Fremont County Sheriff's office, 30 year old Nicole Meier of Glenwood was traveling northbound on Highway 59 Friday evening. Meier was near Imogene, about ten miles north of Shenandoah, when she lost control and was struck broadside by an oncoming school bus driven by 56 year old Timothy White of Oakland. 34 passengers were on the bus which was on it's way to Shenandoah High School for Riverside's district final basketball game.
The driver of the SUV, Meier was taken to the Montgomery County Hospital with non-life threatening injuries. One passenger on the bus, 77 year old Frances Rollins of Oakland, was injured and taken to the Shenandoah Memorial Hospital. Rollins sustained a bloody nose in the accident.
Road conditions are believed to be a major factor in the accident. Alcohol and drugs are not suspected to be involved. Fremont County Deputies were assisted by Page County Deputies and Essex Fire and Rescue.
Bennett Blake